Below is the article published on WFMJ.COM:
Western Reserve High School honored for work on athletic fields
Posted: Apr 15, 2019 2:31 PM EDTUpdated: Apr 15, 2019 7:40 PM EDT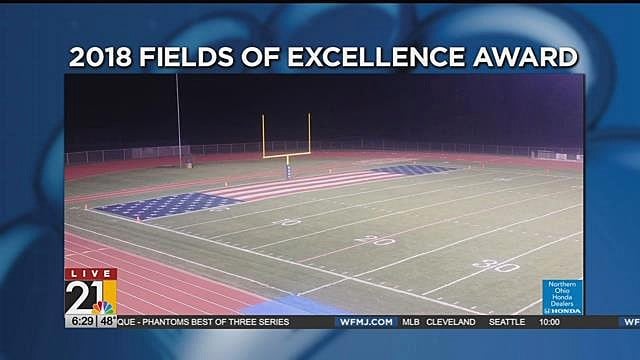 BERLIN CENTER, Ohio –Pioneer® Athletics proudly announces that Western Reserve School has been selected as a WINNER of the 2018 Fields of Excellence® Award.
As a winner, Western Reserve School will receive a scholarship, certificate of recognition and a Fields of Excellence banner that they can proudly display at their winning field. Pioneer may also use the picture of Western Reserve School's winning field in their upcoming publications and annual calendar. Pioneer understands that excellence in athletic field maintenance goes unrecognized and often, unappreciated. The Fields of Excellence Award Program honors outstanding athletic fields and the hardworking field crews who diligently maintain them.
The Fields of Excellence Award Program was established in 1997 and has honored over 1102 athletic fields from around the country since its creation. Colleges, universities, high schools and Parks & Recreation Departments from all over the United States submitted photographs, letters of recommendation and application forms describing their institution's detailed athletic field maintenance program. A rigorous judging process yielded 91 winners from a large pool of applicants, with two athletic fields randomly selected as Scholarship Winners. Pioneer® — The nation's leading manufacturer of athletic field marking paint and equipment. Designed for durability and dependability, Pioneer's line-up of natural and synthetic field paints, antimicrobial coatings, striping machines, high-quality stencils, and athletic accessories are used by over 22,000 high schools, colleges and professional athletic organizations throughout North America.
FIELD OF EXCELLENCE SCHOLARSHIP RECIPIENT:
Congratulations to Daniel Windham as he is the recipient of the Field of Excellence Scholarship!  Below see important information about Daniel and his future plans:
"My name is Daniel Windham, I am a 2019 graduate at Western Reserve Local Schools and have been apart of the community for my entire education.  I am a Student Athlete here at Western Reserve, a student with a 3.4 GPA, and a Baseball letter winner.  Along with that, I work for a local groundskeeper's company where I mostly cut grass.  My family and I have been painting the football fields for about 10 years now and to get to see the look on fans' faces when they see our field, makes it all worth it.  I plan on using the scholarship money to further my education at Point Park University where I will study mechanical engineering and continue my career as a baseball player.  I am truly honored to be chosen for the scholarship and thank everyone on the Pioneer Paint staff for giving me aid towards my future goals."
PICTURES: